Investigation of the immunologic microenvironment in the initiation of tumor development requires relatively non-invasive sample collection methods, such as measurement of soluble immune markers (e.g., cytokines/chemokines) in luminal fluid samples such as cervicovaginal secretions. Traditionally, these markers have been compared between groups based solely on concentration differences, despite the complexity of immune system interactions in tissues. We explore alternative methods for analyzing large panels of immune protein markers, in a study [1] evaluating the role of soil transmitted helminth (STH) infection on oncogenic human papillomavirus (HPV) persistence as an early microenvironmental interaction predisposing to the development of cervical cancer.
Data on 90 women from Peruvian Amazon reveal a significantly increased correlation between IL-4, the canonical Th2 cytokine, and other cytokines and chemokines linked to the Th2 immune responses among STH-infected compared with STH-uninfected women. To capture this finding, in one presentation, we provide a lower triangular correlation matrix (Figure 1) in which we use coloring to highlight the Spearman correlation's Sidak adjusted significance of the p-value between STH-infected and STH-uninfected women for every cytokine with all other cytokines. The generated matrix is ordered based on the observed hierarchical clustering in the STH-infected women to emphasize the role of IL-4 and hence introduces the new concept of second/horizontal chain correlation among a panel of immune markers. Dendrograms and cluster analysis plots are used for further illustration.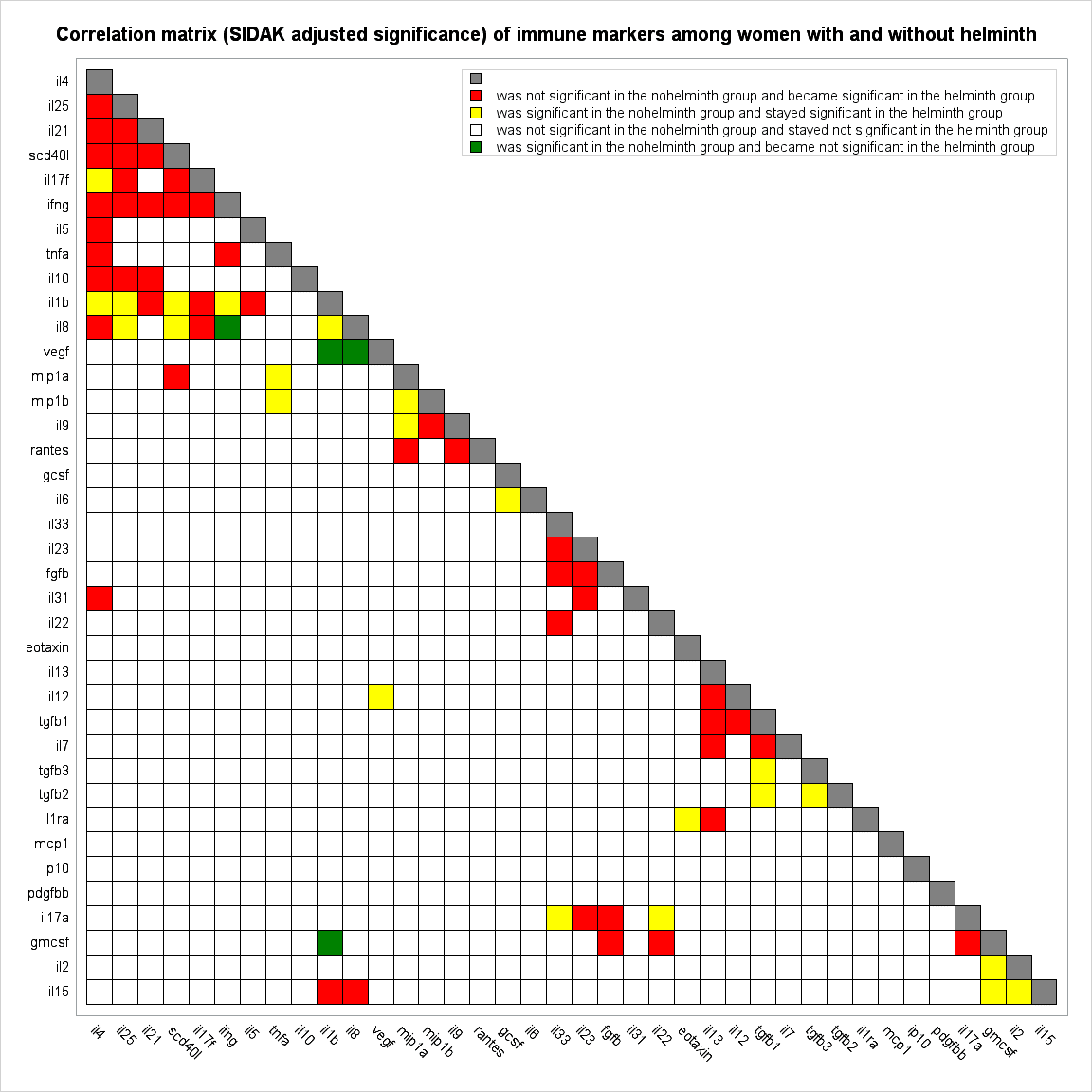 [1] Gravitt PE et al. Intestinal parasitic infection is associated with increased HPV prevalence in the Peruvian Amazon. 28th International Papillomavirus Conference, Puerto Rico, December 2012.
Funding source: R21 CA156537-02 (Gravitt, PI), NIH/NCI. "HPV Persistence: An overlooked consequence of helminth infection?"